The hands are one of the most actively used parts of the human body. It comes as no surprise that problems may develop from all of the continued use.
If regular over the counter pain relievers are not enough to make the pain go away, more professional treatment may be required. The most effective way to find treatment for hand pain is to know what it causing it in the first place. There are several conditions that are known to cause hand pain. Here are a few:
• Arthritis 
Arthritis is a condition that causes the joints to become inflamed and sore. Joint pain is commonly attributed to arthritis. There are many different kinds of arthritis and it is important to know exactly which type you have before you attempt to treat it. Joint pain from arthritis typically gets more with age.
Watch this video: There are different types of arthritis: psoriatic and rheumatoid
• Carpal Tunnel 
Carpal tunnel is a syndrome that affects the hand and wrist. It is caused when one of the nerves in the wrist become pinched. Carpal tunnel syndrome can be caused by different things, such as how the hand and wrist is frequently used or pre-existing conditions.
Carpal tunnel can be painful but fortunately, most cases are treatable. With proper treatment, most cases of carpal tunnel can be eliminated and use of the hand and wrist will return to normal.
Carpal tunnel syndrome (CTS) is a condition that causes pain, numbness and a burning or tingling sensation in the hand and fingers. Watch this animation and find out what the carpal tunnel is and what causes CTS.
• Tendonitis 
Hand tendonitis causes pain similar to carpal tunnel, though the pain is caused by the tendons in the hand rather than a pinched nerve. Hand injuries can often result in tendonitis but it can also be caused by something as simple as everyday use. If you suspect that you have hand tendonitis, it is important to visit your doctor for a proper diagnosis. If left untreated, the tendons in your hand can actually rupture and surgery will be required to fix the damaged tendons.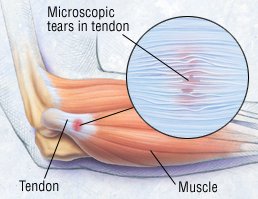 If your hands are sore and do not get better after a few days, it is a good idea to visit a bone specialist like the ones at Providence Orthopaedic Clinic. With proper treatment, your hands will be back to normal in no time.
Bone Doctor's Advice: Things You Can Do Now to Stop Shoulder Pain